So what is a Colonial Style Queenslander?
In an excerpt from "Brisbane House Styles 1880 to 1940,  A Guide to the Affordable House" by Judy Rechner, a 'Colonial' refers to the class of styles in fashion between 1859 and 1901 when Queensland was a colony.
A colonial home usually has a very steep pitch in the roof and a stepped verandah. (the verandah roof is attached down the wall from the building roof).  The verandah roof may be curved (bullnose) or flat (skillion). The true colonial often had a brick chimney and a detached kitchen.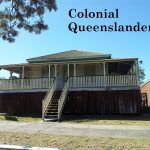 I was about to say.. this is by far, my favourite of all Queenslanders, but then I looked at a photo of a Bungalow style and I like that too.. and don't get me started on Gabled Queenslanders – they are great also. There have been many days I have got home from work to say to my husband "I've found our next house, let's get some land" only to be told 'no'; we have a perfectly good Queenslander replica (but it's just not the real thing!!) I've been following some pages on Facebook recently and there are certainly some passionate people out there. There is also the element of keyboard warriors that have an opinion on everything but you get that on social media. The hard part is sorting through the 'opinions' and finding the 'facts'. This is why I love having reference books written by experts. I mean, who knew that the window above a door was called a Transom window or Fanlight. (Transom is the horizontal structural beam across the top of the door and Transom window is the window above it; Fanlight gets its name from Georgian styles of windows, 'light' – glazed aperture or window and 'fan' from the fan-shaped windows above Georgian styles) [pg 93 of The Queenslander House by Ian Evans and The National Trust of Qld]
I know – reference books are so 1986 (remember doing your assignments with the Encylopedia set??) Don't get me wrong, I love the ease and availability of the Internet but I also like to flick through a reference book, gaze at all the illustrations and have the book in my hands.  I'm old fashioned like that but then I work with old houses so it seems like a perfect fit. I have listed above my two 'go-to' books. Both are available online and written and published in Australia. #supportlocal
Get out there and grab a book, you won't regret it.